How to Make $10k a month as an Online Personal Trainer [with case studies] – Fitness Mentors, LLC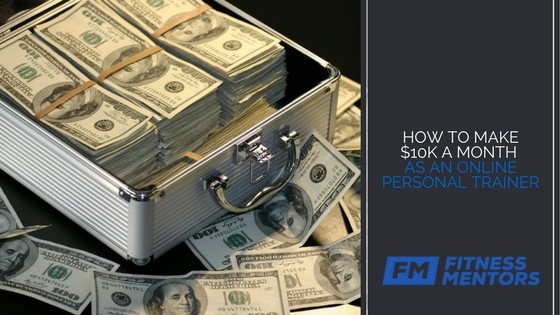 Becoming an online personal trainer is one of the most sought after approaches to make more money that there is.
Chances are, if you are considering this niche you are attracted to it because there is no income ceiling. Online personal training works while you sleep, doesn't care how many hours there are in a day, and doesn't put you in a box that forces you to focus on time as your biggest threat.
Simply put, online personal training as a business model is scalable.
Think of it like a software company that creates software with five employees. Once the software is created, the addition of 10 or 100 more clients really doesn't necessitate the hiring of any more resources. This is why software companies — think —  are worth so much money (in case you were wondering).
Why mention software? Because creating an automated online personal training model is where the money is at. And, because personal trainer software is worth mentioning as an online business model.
So, this sounds fantastic doesn't it? Of course it does, but that doesn't mean it's easy. Today we will learn how to make starting an online personal training business easier and the tools and tricks I used to create one (hint: you're on the website of a online personal trainer business).
If you use the advice in this blog post, you'll be on your way to generating recurring income of over $10,000 a month while floating around your heated pool.
Types of Online Personal Trainer Business Models
There's more than one way to skin a cat and there's more than one online personal training business model. Let's look at what some of the most common ones are.
The Sell Online Training Programs Model
This is the most common type of online personal training. You know, the kind where you find the website that promises that the program you buy will help you [choose one] build an athletic body, lose weight, improve your cardio, get huge, and so on and so forth.
Often, this program has a dashboard (likely from the next model below) you can log into to track your results and interact with your online training coach. Many of them are personalized, meaning that the trainers will actually determine your goals, find out things like your BMI, and monitor your progress, just like an in-person PT would do.
The Online Personal Trainer Software Model
Another, and perhaps the most challenging online personal trainer business model is to create a software that other personal trainers will tap into to make their lives easier. is one of the most popular personal trainer business management softwares out there.
This software, for example, helps with things like online booking, staffing resources, reporting and marketing tools, client facing tools like billing and profile management, and most importantly, automation features that will plug in play items for you.
The Online Personal Trainer Product Model
This is the path that Fitness Mentors fits into as we sell educational materials to aspiring and existing personal trainers. While we do use software to help automate a lot of our online product delivery (ex. product delivery after payment), we did not create a software to sell to other trainers to use.
Personal trainers need resources and we've structured our business around providing them to them and this online business model has worked well for us.
Process: What all Online Personal Trainer Business Need to Succeed
Do you know why McDonald's is the most successful fast food corporation in the world? Process.
Check out if you have not yet seen the movie about the true definition of a mechanized system. Hell, you have McDonald's to thank for half of your personal training clients anyway so you may as well learn a little more about them.
Anyway, the point is, the key to a good online personal training business — whether it be training clients, building software, or selling products — is that you need solid processes in place to make it all work.
Here's an example of why processes are important.
Let's say you are a online personal training business that specializes in weight loss. You get a new client, interview you them and ask the all the necessary questions, then spend the time to create personalized programs, craft custom emails, respond, and lose clients haphazardly throughout the entire onboarding process only to see them leave and all your hard work equate to $10 an hour.
Even if they do stay on you still are spending time with them and your business growth model is limited to how many clients you can work with in a day.
Now, picture the same weight loss specialization online PT business that has put processed in place:
You see, taking the time to create processes allows you to make your online PT business more like software. Completely automated.
The beautiful thing about this is that you can tap into existing software programs (if you are selling programs) to help with your automation. Check out personal trainer software and get instant access to packaged sessions (that you can also customize) for video libraries, meal plans, and workout tracking.
So, before you begin to implement all this great automation, you'll want to structure your business first. In my book, , I review all the processes you need to take from certification to branding, choosing your client demographic, business checkpoints, and marketing.
You may already have this in place if you have an existing personal training business, but if you are new to the business end altogether it's worth a read.
Now that you've got your business processes in place it's time to take a look at some case studies of the aforementioned three types of online personal training businesses.
Online Personal Trainer Business Case Studies
The following online PT businesses are worth looking at when starting your new venture because these companies did it right. In addition to looking at how they structured their business (yup, I'm talking about process again), we'll take a look at the type of marketing they did to get popular.
Sell Online Training Programs Model Case Study
I've covered John Romaniello and Roman Fitness Systems , perhaps because he has a really cool online personal trainer business model or perhaps it's because I have a man-crush. Either way, here are a few takeaways you can learn from his .
Keep it simple for visitors to understand what you offer
In the screenshot below we see that the website provides two, very distinct online personal training paths, "make people hot" or "get people huge."
Roman has capitalized on the psychology of most of his clients and knows they want to get sexy or get jacked. The rest of the site takes them down a funnel that leads them to the sale.
Tell people why you're different and how you're going to help them
Whether you select "make people hot" or "get people huge," you are taken down a sales funnel that explains how Roman Fitness Systems will help the visitor, shows some proof of it with pictures, and captures their email at the bottom to continually market to them. Not only are these elements of an , but also tie into what I discussed above on focusing on a client demographic.
Use automation as your friend with forms
In the top menu of the site, there is a link to Coaching, a page with a form with a few qualifying questions. In other words, Roman Fitness Systems understands that having phone interviews with each potential client is not a good use of time when you can create a form to vet clients before you reach out to them.
Use your knowledge to get featured across the web
Roman Fitness Systems has implemented a ton of content marketing into their overall . You see that Roman has been featured on a wealth of major sites right there on the homepage, but they also showcase the recognizable icons in the top right of the site as well.
The frequent publication of articles is a notable search engine marketing tactic which helps people find the site who might not know about it or the services it provides. The more traffic your site generates, the better chance you have of converting visitors to sales.
Additionally, Roman Fitness Systems has made good use of our number one tip in our : write for industry blogs to get touted as an expert. There are some instructions on that blog to getting in contact with high profile sites and writing for them.
According to fitness marketing expert Daniel Lofaso over at the , "guest posts, and the links to your website you typically get from them, can be a major source of website traffic as well as can help build the credibility of your site, therefore helping it rank better in the search engines."  
The Online Personal Trainer Software Model
Building actual personal training software is no joke. This is likely the most difficult of the three online personal training businesses mentioned here, but can also be the most lucrative. Trainerize, one of the most popular pieces of software that "connects trainers to clients," is made up of a ton of processes that make it easier for trainers to do their jobs.
Here are some key takeaways from how Trainerize structured their online personal training business:
Create software solutions for common personal trainer problems
All business models begin with solving a problem. For Trainerize, it was helping trainers better organize their sessions, connect with clients, create workouts and meal plans, and utilize a database of helpful premade resources like their video library.
Any processes that were formerly manual, created in old fashioned Excel spreadsheets, or up to the trainer to create (and create professionally at an affordable rate), were considered and put into place with this software.
Cater to individual and corporate clients
Another thing trainerize does well is recognize their clientele. They understand trainers can benefit at an individual level and enterprise gyms can utilize their software company-wide. Thus, the company created software packages that appeal to solo practitioners, small clubs, and big box gyms.
Use content marketing to gain exposure
Like Roman Fitness Systems, Trainerize also uses content marketing to gain exposure and drive traffic and awareness to their site. The site publishes a blog post about every five days and clearly employs keyword research (an SEO practice) to try and leverage more search engine traffic.
The Online Personal Trainer Product Model
My site, Fitness Mentors, has employed the online personal training model of selling products. Personal trainers need resources, and if you do a good job of creating them, you can make money online. Here are some of the things we've done make our business grow that you can too.
Focus on a specific niche and master it
As a former college professor who helped 100's of students , I was able to get a firm grasp on what was required to pass this exam the first time. For Fitness Mentors, we initially focused on the selling of NASM-specific materials until we dominated the market. There were (and still are) lots of imposters, but our suite of products is still the best in the industry.
Furthermore, since we were able to focus on one central niche, we were able to spend all of our resources catering to it rather than trying to take on more than we could chew. Fast forward a few years, and we can now focus on our next suite of products catering to another market.
Give things away for free to build up your email list
Email list building is one of the most important things you can do to grow your online personal training business. This is such an important tip I'll say it again. List building is one of the most important things you can do to grow your PT business.
We literally have dozens of email lead capture elements all over our site just like this one:
I'll give you the exact formula for making awesome email list building content:
First, create something cool that your clients find valuable. For us, it was a simple 5-secrets to passing NASM document. Save this on your website but don't link to it because you want people to give you their email first.
Second, get set up on an email software like . MailChimp is free up to use up to about 2,000 emails so you don't have to worry about paying for it for a little while. in MailChimp for the new email lists you want to target.
Next, you'll want to create an for these new leads. Create 5-6 emails, sent out every other day, that do the following:
Finally, you'll want to create the lead capture elements on your site. We use a lot of popups like the above as well as permanent options on the side of our blog. We use .
Once someone opts in, the email campaign will trigger. Plus, you'll always have this list of emails to send information too and keep them in the loop.
Use social proof to your advantage on social media
Our previous clients are our best brand ambassadors. We showcase them on our social media all the time and let them tell others how great our products are (so we don't have to).
Invest in SEO and content marketing
Before we began ranking we invested heavily in SEO and content marketing and the results have been amazing. Rather than talk about it, take a look at what we have done:
#1 & #2 for "NASM study guide"
#1 for "personal trainer marketing (the top result is an ad)
As you can see, the results speak for themselves and they have been integral in us growing our business and selling more products. I gotta give a shoutout to my SEO team at , if you need SEO or a web design, those are the guys to work with.
Are You Ready to Make $10k with Your Online Personal Trainer Business?
Starting an online personal trainer business has its challenges. If you create great processes up front you'll be able to scale your business quickly and without limitation. Before you dive in, I encourage you to maintain your current clientbase and try to do some of your online PT business on the side. Once your online PT business picks up, you can make the transition to it full time.
Have you started an online personal trainer business or are you thinking of starting one? Let me know if you have any questions or your experience in the comments below.
Eddie Lester is a personal trainer from Los Angeles and the Founder and CEO of Fitness Mentors. With over 10 years experience and 8 different certifications and specializations, as well as multiple years teaching training at a vocational college, Lester loves sharing his knowledge of practical training experience as well as how to study for PT exams. Lester is the author of Business and Sales: The Guide to Success as a Personal Trainer.
This content was originally published here.