Local personal trainer launches new business
WATSONVILLE—Opening a new business during a global pandemic might at first seem like a risky move. But for Christian Diaz, it was also an opportunity.
With most fitness centers throughout the state remaining closed to stop the spread of Covid-19, people have been looking for new, safer ways to stay healthy. Personalized training—Diaz's specialty—is one such option.
"For a long time personal training has been looked at as a luxury service, but now, it's a necessity," Diaz said. "People are becoming more aware of their individual health, especially with everything going on. We're realizing how important it is to take care of ourselves."
Diaz's new business, Envision Fitness & Nutrition, focuses on personalized and small group (2-4 person) training. For now they are organizing sessions via Facebook groups and other virtual platforms. Diaz is holding online group coaching, nutrition talks and one-on-one discussions.
Eventually the studio will open its physical location at 434 Main St. for in-person sessions. Thankfully, Diaz said, they are already set up for success.
"If we're even allowed to open at 10% capacity… well, that's already what we do," he said. "Private, or small groups… Our model fits the current situation. This pandemic opening has been difficult… but we're learning how to shift and adapt."
Diaz grew up in Watsonville, and said he is eager to give back to his community, which he has noticed changing in its approach to health and fitness over the years. This is especially true for the city's Latinx population.
"When I was a kid, I never heard my parents say, 'I'm going to the gym,'" he said. "But you're starting to hear it more. This huge industry has grown because a lot of minorities are getting into fitness, and are more open to it."
A former soccer player and bodybuilder, Diaz has been part of the local fitness industry for five years. He first started coaching as a personal trainer at Fitness Evolution, now Fit Republic on Green Valley Road.
Diaz said that with his new endeavor, he would like to help people simplify both their fitness and nutrition goals. This means staying away from fad dieting, cardio-heavy workouts and specialized equipment.
"The industry has pushed all these diets… Keto, Paleo, juice cleanses… people are taught that they need those things," he said. "They go to the gym, run on a treadmill, and wonder why nothing is working. That's where we come in."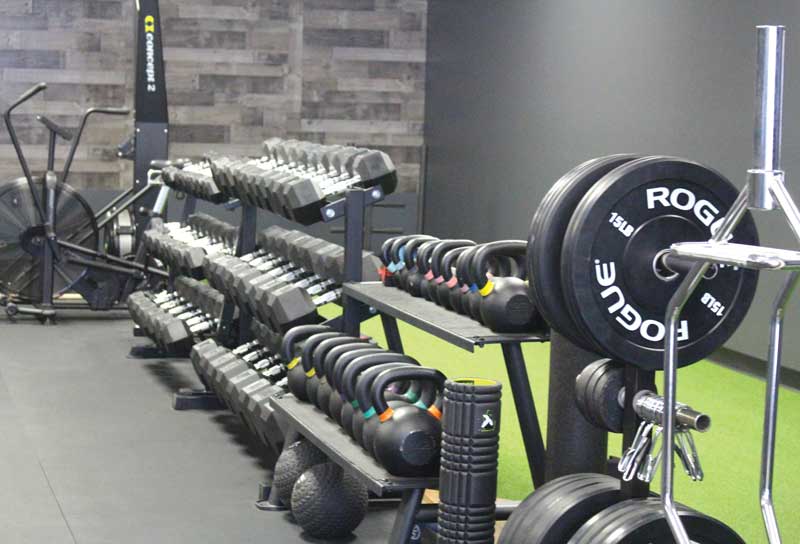 Chris Ellis, owner of Santa Cruz Power Fitness and Sports Nutrition, is Diaz's business partner. The two met on the bodybuilding circuit—Ellis was a professional—and remained in contact. Ellis has been guiding and helping Diaz with overflow, but is sure to credit the business as Diaz's own.
"Christian is a staple in this community for fitness," Ellis said. "He's so young, but has so much to give. The knowledge people get when they work with him… they will use it for the rest of their lives."
Ellis highlighted the importance of having proper guidance when getting in shape. 
"Having the guidance of someone teaching you, understanding how to get results and how your own body works… Without that, we wouldn't know anything," he said. "I will always continue to have my own coach, and I'm almost fifty. I know the importance."
Diaz said his favorite part of what he does is his client's reactions when they finally see results.
"They'll arrive with a huge smile on their face, like they can't believe they did it," he said. "It builds their confidence, gives them years of their life back. I love to see that."
The Envision Fitness & Nutrition studio will remain closed until Covid restrictions are lifted. However, Diaz said he has already garnered a good following online. He hopes that will only grow in the coming months before opening.
"Every business owner is now thinking about how they can be recession-proof; 'How will I survive if this happens again?' It's about planning for what might lay ahead," Diaz said.
Added Ellis: "Opening a business right now might sound counterintuitive… but when this is all over, we're ready. People have taken ten steps back this year. We want to be there, ready to help." 
To learn more about Envision Fitness and Nutrition visit the business' Facebook page or email Diaz directly at .
This content was originally published here.